CAS NO.:75621-03-3
Specification/price :5kg,25kg
English Name:3-[(3-Cholanidopropyl)dimethylammonio]-1-propanesulfonate
Molecular Formula:C32H58N2O7S
Molecular Wt:614.88
Structural formula: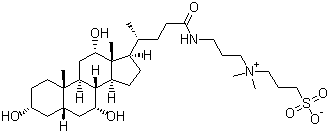 Appearance:White Powder
Assay(from N):100.2%
Enterprise Standard
ampholytics (detergent); the most commonly used protein lysis solution, used to extract protein.
Characteristics of biological buffer:
1, Strong water-solubility;
2. Compatibility of the acid-base dissociation balance;
3. Low membrance penetration rate;
4. Low metal chelating ability;
5. High chemical stability;
6. Low absorption in ultraviolet and visible region.